News
Weekend Warriors gets a re-boot
One of our favorite and most popular short films is getting a reboot. Yes, Weekend Warriors is getting a new cast, a fresh take on the characters and updated visual effects. Although well received, we never thought the original got the attention it really deserved. So, to kick off our latest round of projects, we thought we would start with something familiar and fun. We're currently in pre-production; auditioning cast, scouting locations and testing VFX. We're hoping to get into production by late May. Stay tuned!  
New Robot
After months of modeling, texturing, rigging and testing, I've decided to go a different route with the robot from the Dr. Faustus script. As you'll note from the picture, the new model is closer in proportion to an adult male. I think this will make it easier to integrate with the live action characters.
The Propmaker
I just finished the first draft of my feature length script "The Propmaker". I'm sharing it with a few close friends now, but I'm hoping to start in on the second draft in a month or so. Stay tuned.
- Shawn Miller
PapaBoi promo videos
Just shot some footage for Chef Trey Lamont. We'll be rolling out some pieces to promote his soon to open food truck, "PapaBoi".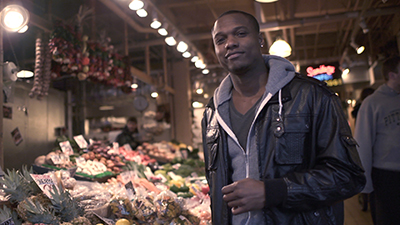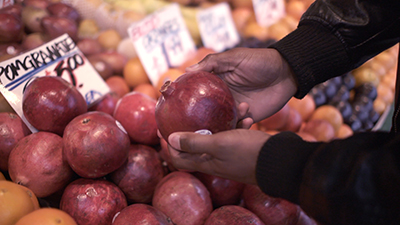 Table Readings
We've finally gotten things together and we're planning table readings for Dr. Faustus and the Holiday Science Pageant and Shayla. Hoping to find some talented young actors to work with this Spring.
Update: Done Rigging
Finally finished rigging - now the treads, arms and hands work.
Update: New robot details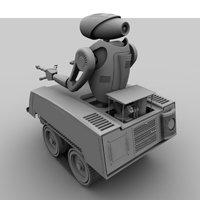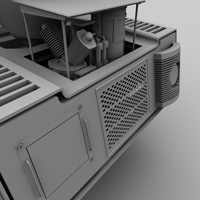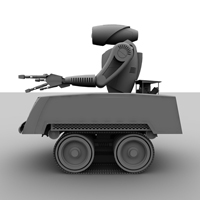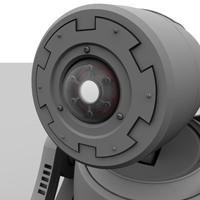 I think I'm going to call this 80% done (look wise). Now it's time to rig and texture this bad boy! Hmmm... maybe some flames.
Storyboards
  Just got some storyboards from Seth Goodkind, he helped us visualize the 'Veronica/Robot fight scene. I think he did a great job.  
Update: Dr. Faustus Script finished
Just completed the third draft. I think I should stop here... otherwise, I'm afraid I might start losing the things I like about the story .
Update: More progress on the robot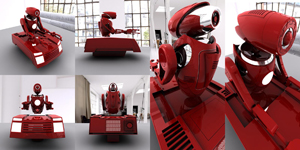 Okay, so I've been tooling around a bit, and I think I have a definite direction. I think the next step is to add treads and more details.
Had an idea for a short today
I was looking at this old VFX test I did a couple of years ago, and I thought to myself "That's kind of cool, I think I'll update the robot for fun"... well, one thing lead to another and I came up with this short story, 'Dr Faustus and the Holiday Science Pageant'.Right now, I have a first draft of the script and a few rough ideas of what I want the robot to look like. Updates to come...
Robot VFX Test from Shawn Miller on Vimeo.
---